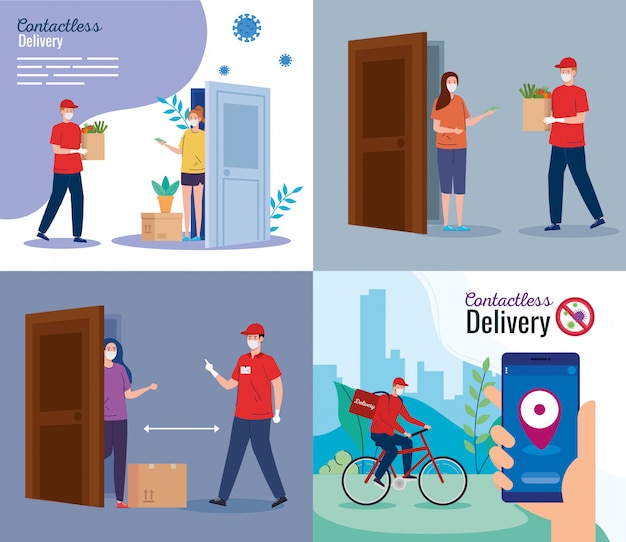 Contactless Delivery!
Contactless delivery is worth talking about especially in this era of Covid 19. Due to the pandemic, contactless delivery has become so essential to the daily lives of people. It is currently a customary procedure for most industries, especially for restaurants and shopping centers to reduce physical contact to keep workers and patrons safe.
According to ShipBob, Contactless delivery is the process of delivering an order to a port of call while conserving restricted or no exposure between the person delivering the order and the receiver. In recent times, contactless delivery has become the norm as more patrons turn to online shopping to acquire their needs and wants and have it delivered to them safely.
Anyone who has used or uses any food delivery app like Pizarea has experienced and can attest to how contactless delivery works. Contactless delivery is not only adopted by food delivery services. Other spheres are as well analyzing ways to minimize contact points. Places such as hotels, entertaining centers, just to mention a few.
The need for contactless delivery has presented an eccentric opportunity for the technology sphere to further invest in contact – free tools or gadgets such as drones, self-driving vehicles that would aid the course.
The Idea
The whole idea behind contactless delivery is that there's no need to hand off or interchange goods in person, and preferably no exposure whatsoever with the delivery person. The order is simply dropped off at the port of call, alerting the receiver via phone call, text message or email.
In some cases, depending on the courier, the delivery person can take a picture of the package and send it to the receiver, directing him or her to the port of call when the delivery arrives. The receiver is notified of their order and directed to the port of call. This in turn reduces the risk of package theft (which is bound to happen if the receiver is not notified of their delivered package).
PIZAREA AND CONTACTLESS DELIVERY
Pizarea, to ensure genuine safety measures, requires delivery persons to wear personal protective equipment when dropping of an order at a port of call. This helps keep both the receiver and the delivery person safe while handling packages and dropping them off. Pizarea ensures that all delivery persons;
Wear gloves that cover both wrists
Wear face mask properly to cover mouth and nose
Keep hand sanitizers in delivery couriers and using it regularly.
Pizarea requires temperature checks of all delivery persons before starting their shift. The safety of our riders and our customers is our greatest concern. By observing the protocols, we ensure everyone's safety!
Source: ShipBob