ORDERING FOOD ONLINE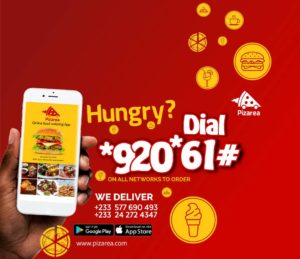 Pizarea Ghana has become a household name when it comes to ordering food online. Many customers as a result are gradually shifting from the traditional way of walking into a restaurant to get food. Customers prefer ordering food and have it delivered in the comfort of their homes. Here are frequently asked questions about Pizarea.
HOW TO ORDER FOOD ONLINE.
Ordering food online has been made easy. Not only by restaurants but by third-party delivery companies such as Pizarea. One can order by downloading the Pizarea App, or via the shortcode: *920*61#.  You can also call 0577690493 / 0242724347 and order food online.
WHICH RESTAURANTS ARE AVAILABLE ONLINE?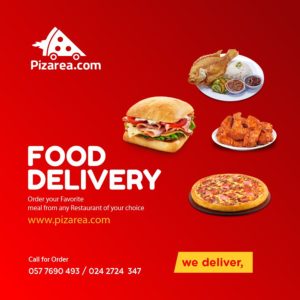 Quite a number of restaurants offer their online. Although there is still the option of dining in, ordering food online tends to create convenience for both the restaurant as well as the customer.
Here are some restaurants available online. Papa's Pizza, Eddy's Pizza, Pizza Inn, Munchys, Pizzahut, Pizzaman Chickenman, Barcelos, Pizzavella, Dominos, Mawarko, Cheezzy Pizza, and Capitol, just to mention a few. There are Chinese restaurants such as Noble House Chinese restaurant, Sweet roses restaurant, and Palace Chinese restaurant available online.
CAN I HAVE YOUR MENU?
Pizarea has the menus of over 100 restaurants in Ghana.  The major ones are Papa's Pizza menu, Mawarko menu, Cheezzy Pizza Menu, Munchys menu, and Eddy's pizza menu.
HOW DO I MAKE PAYMENTS ONLINE?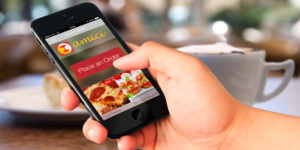 Pizarea supports online payments (MTN Mobile Money, Airtel Money, Tigo Cash, and VISA/MasterCard Bank Cards) and Cash Payments.