Introduction
Over the past two decades, fast food brands have grown largely in many developing countries. Across Africa, fast food restaurants have spread at a rapid rate. This is driven by rising income levels, rapid urbanization, and changing eating habits and lifestyles of individuals.
In Ghana, the restaurant sector represents one of the largest and fastest-growing industries, increasing at an annual rate of 20%. There has also been an expansion of informal fast-food outlets that sell fried rice and jollof rice with fried chicken. They are mostly on the streets of many urban areas in Ghana. One of the fastest-growing fast foods in Ghana however is Pizza.
Pizza, generally, is one meal that brings smiles to everyone's face, including children & adults. It can be eaten at any time, anywhere. For occasions like birthday parties, family reunions, or a simple date, pizza is the best-fit meal. Pizza delivery services make it possible for Pizza to be consumed anywhere at any time.
Pizza Restaurants 
The consumption of Pizza, as well as pizza delivery service in Ghana, has grown over the years with many pizza restaurants springing up. These restaurants make it possible for their customers to dine in at the restaurant or have it delivered to them. Some of the major pizza restaurants in Ghana include Papa's Pizza (with 12 branches in Accra), Eddy's Pizza (10 branches), Cheezzy Pizza (10 branches), Pizzaman Chickenman (10 branches), Pizza hut, Pizza Inn, Chicken Inn (9 branches), etc. These restaurants have become household names for many Ghanaians who crave pizza at any point in time.
Pizza Delivery
There has been an increase in demand for pizza delivery by customers in recent times. This is sometimes due to the usual 'traffic' at pizza restaurants. Customers prefer their orders to be brought to them in the comfort of their homes. Nonetheless, these restaurants make it a priority to serve customers in the comfort of their homes with the use of delivery companies/services. One of the major food ordering & delivery services these restaurants rely on is Pizarea among others.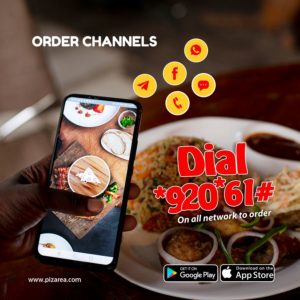 Pizarea
Pizarea is an online pizza and food ordering platform available as a mobile application on the Google Play store and as a website. It enables people to access nearby restaurants, browse their menu, place orders with them and have them delivered to their doorstep. It has the fastest and most convenient pizza delivery service. Pizarea, unlike other food ordering platforms, delivers anywhere that customers call. However, despite the online presence of Pizarea, customers without an internet connection are able to order pizza using a USSD (*920*61#) platform created by the brand. Pizarea certainly makes food ordering a delight.