WANT A SAFE PLACE TO ORDER MEALS ONLINE?
Imagine this – you are hungry and want to order from your favorite pizza restaurant in Accra. You open Google, type Papa's Pizza East Legon in the search bar and press enter. You copy the contact attached to the first results on your screen and call the number to place your order. After, you are directed to pay to the same or a different number to confirm and deliver your order. You oblige and send the money. They thank you and the call ends. The wait then begins! Seconds and minutes turn into hours and you never receive a call that a rider is bringing your order. You've been scammed! You made payment to scammers posing as Papa's Pizza.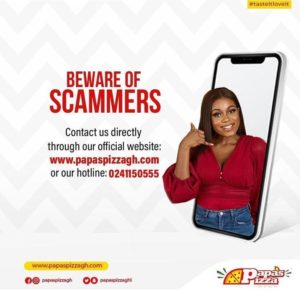 Nothing beats the realization that you've been scammed of your money after paying to a supposed restaurant (scammers) for delivery.
While some customers may notice immediately, others only realize that they've fallen victim to these scammers after hours of waiting. The rest may also notice after they are unable to reach the initial number they took off the internet.
Restaurants like Papa's Pizza, Pizza Inn, Chicken Inn,  Eddys Pizza and Cheezzy Pizza have received numerous complaints from their customers. Sadly, these customers were all scammed on the internet.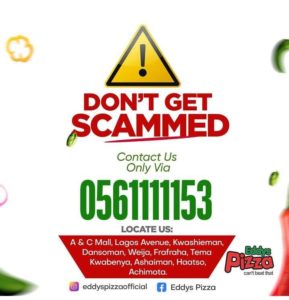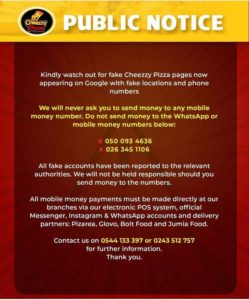 As a result, Papa's Pizza has issued an official statement to their social media accounts. First they apologized, then they informed their customers of the measures they have put in place to prevent such scams from happening. These measures include sending SMS blasts to over 20,000 of their customers educating them on how not to fall victim to such scams, involving cyber security to help investigate these cases, etc.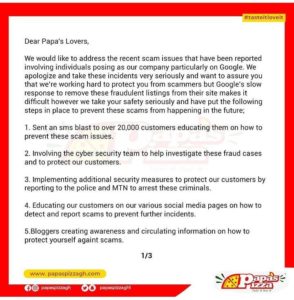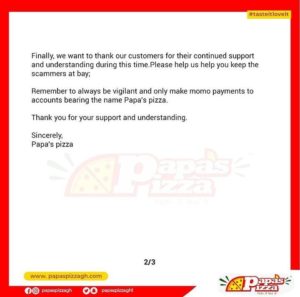 Additionally, Papa's provided their customers with tips to protect themselves from such scams. The first is to contact Papa's via their official line. The next is to order via their website, www.papaspizzagh.com or their verified social media pages. They cautioned customers to make payments to accounts with the name Papa's Pizza or pay via their Tingg number.
Simbisa Brands Ghana Limited ( Pizza Inn and Chicken Inn group), also cautioned their customers to refrain from sending payments to any other number besides to their official mobile money number.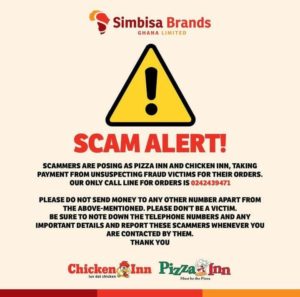 How do you protect yourself from scammers when placing an order online for food?
To begin with, be sure the contact you pick off the internet corresponds to the contacts on the restaurant's official social media page.
Secondly,  send payment only to accounts bearing the name of the restaurant you want to order with.  Don't share your personal details or pin with anyone. When paying with a card, desist from entering your card details in an unsecured website.
Additionally, you should be wary when you're pressured to act promptly (like make payment first before your food is prepared). This is a trick to get you to act before you have time to think and if you're on a call with them, they'll probably tell you not to hang up so you don't go verifying details.
Furthermore, you should only order via the official websites and social media pages of the restaurant or platform you choose. You should research any website that looks new and sketchy. You should definitely beware of any website that redirects you to other web pages.
Visit https://pizarea.com/ when you want to order a pizza, chicken, rice, or any other meal from either Papa's Pizza, Pizza Inn, Chicken Inn, Eddys Pizza, Cheezzy Pizza, or any other restaurant on Pizarea. You can order, pay either online or via mobile money, and pay cash on delivery for orders placed with these restaurants on Pizarea.
You can also use the USSD short code (*920*61#), download the Pizarea app on the Appstore, Google Play store, or the App Gallery or call 0242525789/0577690493 to talk to a customer engagement officer to assist you in placing your order.